The Only Good Indians by Stephen Graham Jones | Book Review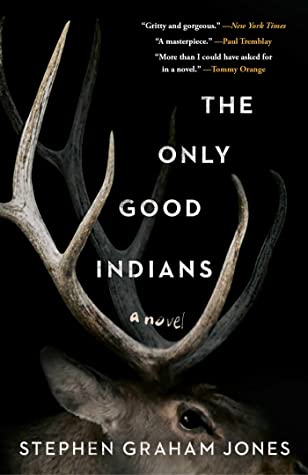 The Only Good Indians by Stephen Graham Jones
Release Date: 14th July 2020
Genre: Adult, Horror
Source: Publisher, NetGalley
Rating: ★
Goodreads
The creeping horror of Paul Tremblay meets Tommy Orange's There There in a dark novel of revenge, cultural identity, and the cost of breaking from tradition in this latest novel from the Jordan Peele of horror literature, Stephen Graham Jones.
Seamlessly blending classic horror and a dramatic narrative with sharp social commentary, The Only Good Indians follows four American Indian men after a disturbing event from their youth puts them in a desperate struggle for their lives. Tracked by an entity bent on revenge, these childhood friends are helpless as the culture and traditions they left behind catch up to them in a violent, vengeful way.
Jesus Christ this book is badly written.
I was intrigued initially by the concept of a slaughtered elk seeking revenge – I am a vegetarian after all – but nothing about this turned out well.
My main issue with The Only Good Indians was the choppy writing style. It might have worked in first person or in a diary format, but in this context it just came across as unedited.
The pacing was so off, too. It was incredibly unbalanced, with the first chapter acting as an intriguing prologue, the following chapters building up to something, and then dropping back down to a slower pace than last time.
Historically, I don't enjoy reading about sport in books. I hated it even more in this one given the context. What was with that basketball match? Was there some symbolism I was missing?!
Honestly, I don't think weird horror is for me. I am definitely the most picky about this fenre. Nothing about this book worked, from the revenge story to the sloppily written female characters. The female elk wasn't even written well.
I would give this one a miss, although it does work for some people so perhaps read some other more positive reviews before you decide.
I've been intrigued by Stephen Graham Jones's other books but if they're all written like this I don't think I will bother.