Reading Plans for January | January TBR
Is anyone else feeling super pumped for the new year? I always feel most motivated in January, so I'm hoping to make the most of it and get through a massive pile of books. I posted about my reading goals on my Booktube channel, if you want to take a look to see how my reading relates to those goals then you should!
I am, admittedly, not great at sticking to my TBR lists because I'm such a mood reader, but here are a bunch of books that I'm hoping to read in January. I'm sure it'll be a fantastic reading month regardless, even if I do need to mix it up!
SEQUELS/BOOKS IN SERIES
One of my 2023 goals is to finish some series. I'm terrible at doing this; I tend to read up to the final book in the series and then stop. Possibly out of fear. But I'm making an effort this year to squeeze in some series and properly focus on them. I have a couple of series books on my TBR for January, and I'm planning on ramping it up over the next couple of months.
RED TIGRESS BY AMELIE WEN ZHAO
This is the sequel to Blood Heir, which I read last year and loved. It's a fun YA fantasy book that is also quite bleak. Just my kind of thing. I'm hoping to pick up the third book in this trilogy almost straight after, because I have a feeling it's a good one to marathon.
BRIDGE OF SOULS BY VICTORIA SCHWAB
I'm listening to this one on audio and I've only got a couple of hours left. I've been really enjoying listening to this series as the narrator is fantastic and does really fun accents. Bridge of Souls is set in New Orleans, which is somewhere I would love to visit one day!
ARCS
I really need to focus on NetGalley in 2023 because I have sooo many outstanding ARCs. I also want to start doing monthly reading vlogs for new releases, so I have a lot of plans for my ARCs.
THE MYSTERIOUS CASE OF THE ALPERTON ANGELS BY JANICE HALLETT
I've actually just started this one and I'm so excited! Hallett always writes her mystery books in such unique ways. This one is about a true crime writer who's investigating an old case for her new book, and it's written in a mixture of emails and text messages. I'm hooked already and I'm only 7% in.
SPICE ROAD BY MAYA IBRAHIM
I'm going to be on the blog tour for this book and I cannot express how excited I am! I love Arabian inspired fantasy, and I love supporting debut authors, so I can't wait to pick this one up.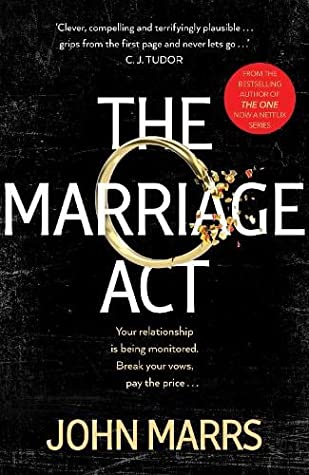 THE MARRIAGE ACT BY JOHN MARRS
I've not read anything by John Marrs yet, which might be a mistake because I believe this one is set in the same universe as The One. I did start reading The One, though, and I was super intrigued. I think John Marrs tends to write speculative sci fi thrillers, which I love!
RIVER SING ME HOME BY ELEANOR SHEARER
This book is set in the Caribbean and it's about a woman who was freed from slavery who travels across the islands to find her children who were stolen from her. I think this is going to be a hard hitter, and I love me an emotional book!
TBR PILE OF DOOM
The final section for this TBR list is focussed on my TBR pile of doom. I don't think calling it a TBR mountain quite does it justice. I started the year off with 355 physical books to read (and more at my grandad's, which I left there when I moved out… it's fine) and while I'm already down to 353, I've got a long way to go! Here are a few books that I'm prioritising in January.
ASTRID PARKER DOESN'T FAIL BY ASHLEY HERRING BLAKE
I read the first book in this romance series last month and very much enjoyed it. It is a series of sapphic romances, and this one follows the step sister of the main character from the first book. I think I'll relate to Astrid more than Delilah, because I was finding Delilah to be very childish by the end of her book. I'm excited for this one though, especially as it features home renovations!
JUNGLE BY YOSSI GHINSBERG
This is a non-fiction book about the author's time when he was lost in the Amazon rainforest. It sounds absolutely terrifying! I love survival stories, so I'm excited to read this, and I'm looking forward to watching the film as well because Daniel Radcliffe stars in it.
I MUST BETRAY YOU BY RUTA SEPETYS
I'm currently in the middle of this one and I'm super intrigued! I love Sepetys' books so much. This one is set in Romania in 1989 when the country was still under the grasp of communism. The main character is told to spy on some Americans in order to get medicine for his sick grandfather. I'm probably going to finish this fairly soon because it's a captivating read so far.
OCEAN'S ECHO BY EVERINA MAXWELL
This is the companion sequel to Winter's Orbit, which I read last year (I think?) and loved! I've read the first chapter of this already and I'm intrigued by the main character and his mind powers. I'm looking forward to being introduced to the romance and more of the world – I love a good space opera!
I think it's going to be an epic reading month and I'm excited to catch you up later on to tell you how I did!